Join the Challenge | Click Here
We've partnered with a wide range of companies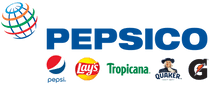 Our Mission: Help 100,000 underrepresented students secure their first job
Due to the coronavirus, internships, on-campus events, and many job offers were rescinded. These cuts hit students from underrepresented backgrounds especially hard because they often use these opportunities to build their networks and secure their first job. Ensuring that students land their first job is crucial because it impacts their earning potential for years to come. We realized that if we did not help rebuild these informal networks, incredibly bright students could become under or unemployed, risking a lost generation just when the efforts in higher education to bring in a more diverse student body have started to bear fruit.
We are committed to ensuring this does not happen. We will not have a Lost Generation.
To ensure we stay true to our mission, the entire platform is student-led from the technology behind the app to the communications and roll-out strategies employed for the initiative. We believe in the next generation, and we want to showcase their talents to the world. We Hope You Will Join Us.
Help the next generation while building connections to your future workforce
Showcase your values and impact to your customers, employees, and the community in a social, scalable, and digital way.
The 100k Mentor Challenge
A mobilization of companies and professionals across the country to support the next generation of leaders.
Our first goal is to register and connect 100,000 professionals to mentor 100,000 students from underserved communities during the 2022/2023 academic year.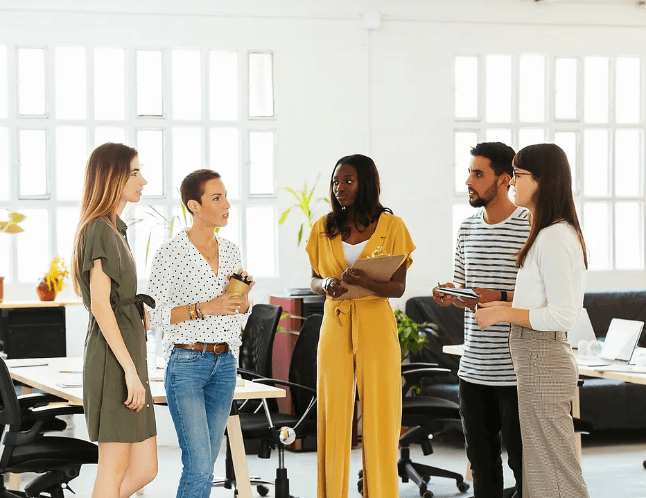 How does the program work?
1. Build Your Profile
Tell us about yourself and what you want to accomplish
2. Find Your Match
Match with someone who shares your professional goals
3. Start Connecting
Work and grow together during the 4-month mentorship
Companies had just started to figure out how to build talent pipelines and create opportunities:
Diversity Initiatives on Campus
The Coronavirus pandemic has eliminated almost all of these programs, which are crucial to helping students from underrepresented backgrounds build the networks and gain the exposure that many do not have on their own and lead to full time jobs.
A Challenge & An Opportunity
With the COVID pandemic causing all of the rules to be rewritten, this period in history will mark one of the few moments where nearly every facet of the recruiting process is being reimagined. As student leaders, while these may be uncertain times, we are excited by the challenge because it is an opportunity for us to help contribute to a better, sustainable, and more equitable system.
Digital First & Automated
We wanted to ensure the program was accessible to all no matter where they were located and that it utilized the platform where Gen Z lives: their phones. Recognizing that both students and mentors would have demands on their lives, we empower both sides to engage with each other on their schedules and automated much of the matching process so no one has to spend time sifting through thousands of profiles to find the perfect match.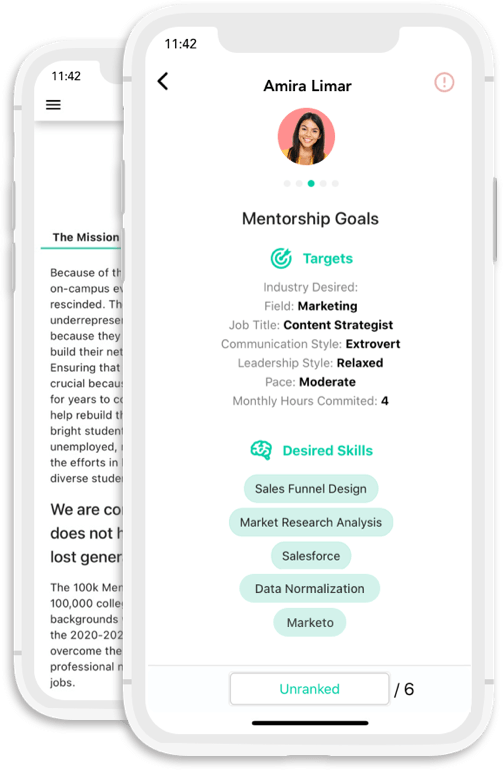 Reconstructing & Reimagining Networking
We are facing a new reality. The traditional ways we build bonds with people through in person interactions are going to be severely limited for the next several years, yet building these relationships between people will still be crucial to a person's success. So we reimagined how students from underserved communities can extend their networks and connect with inspiring professionals who they may not otherwise be able to access.
Hear from some of our founding partners

Protiviti
"Protiviti is thrilled to join ProMazo and provide our people with the opportunity to mentor and form lasting relationships with underrepresented college students. [The] 100K Mentors initiative is a great way to share those values with others."
Susan Haseley
VP, Global Diversity and Inclusion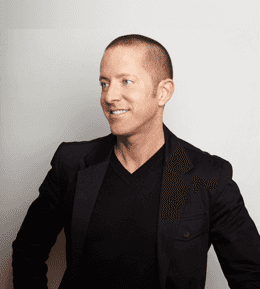 Neiman Marcus Group
"Mentoring leaders of tomorrow not only develops the future workforce, it further engages our company's associates today. The virtuous cycle of mentorship is a priceless gift whose impact can change a life, a family, and ultimately our community."
Eric Severson
Chief People Officer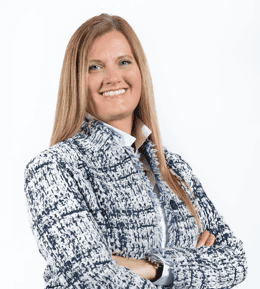 Baker Hughes
"Mentoring leaders of tomorrow not only develops the future workforce, it further engages our company's associates today. The virtuous cycle of mentorship is a priceless gift whose impact can change a life, a family, and ultimately our community."
Deanna Jones
Chief Human Resource Officer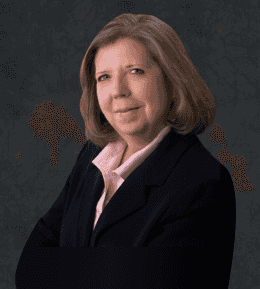 Goodwill
"We at Goodwill® believe everyone deserves an opportunity to thrive. To transform our vision into reality, we need to contribute to each other's development. Mentoring is one way to ensure all aspiring leaders build social capital and advance their careers."
Wendi Copeland
Chief Mission and Partnership Officer
An initiative that can engage your whole workforce
Providing role models, guides, and a network
Changing someone's life does not require money or special training. Mentors simply have to draw on their experiences, be sounding boards for the mentees, and commit to just an hour a month.
A mobile community of mentors. Anytime. Anywhere.
Our app automatically matches people based on shared interests and provides structured guides so conversations can flow quickly and easily. Because we know schedules are busy, the app empowers mentors and mentees to connect on their schedules.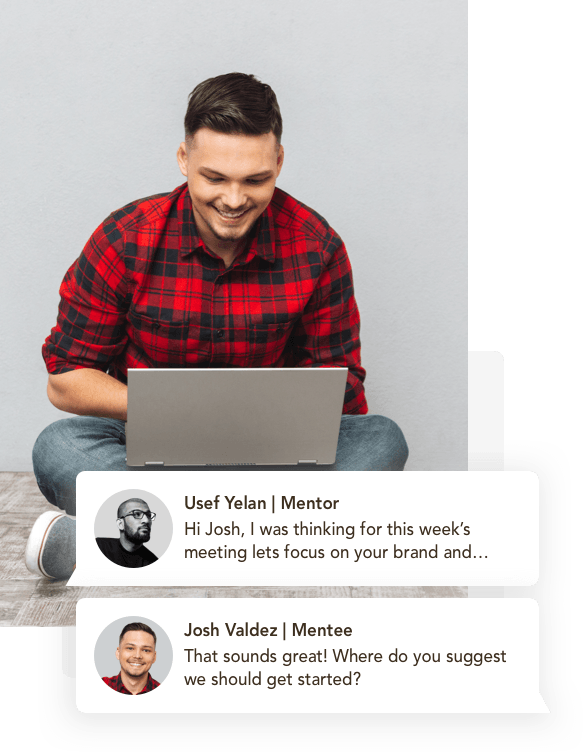 Activate your entire workforce and show your company's values
The 100k Mentor Challenge is a channel to harness the energy of your employees, unite your workforce behind a common mission, and take action to ensure the next generation of leaders are diverse.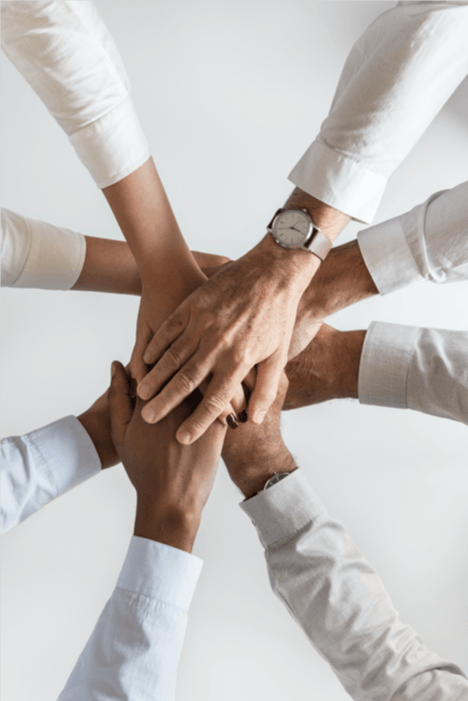 With just one hour a month, a mentor can change a student's life
"Over the last 4 months, my mentor helped me identify my career path and really taught me how to network. It changed my perspective on how to get my next job."

Sarai Flores, Penn State University
100k Mentor Program Participant
A unique program that is a win-win-win
University Students and Scholars
Connect with professionals in the industry you want to join after school

Learn what it takes to succeed in the professional world

Gain important insight, guidance, and support from your mentor
Working Professionals
Take action against systemic inequality and ensure we do not have a lost generation

Develop new perspectives you can bring back to your organization

Learn how to effectively communicate with the next generation
Companies and Organizations
Create a channel to engage your workforce for positive social change

Showcase your culture and values to your next generation of employees

Attract, identify and engage top candidates at scale